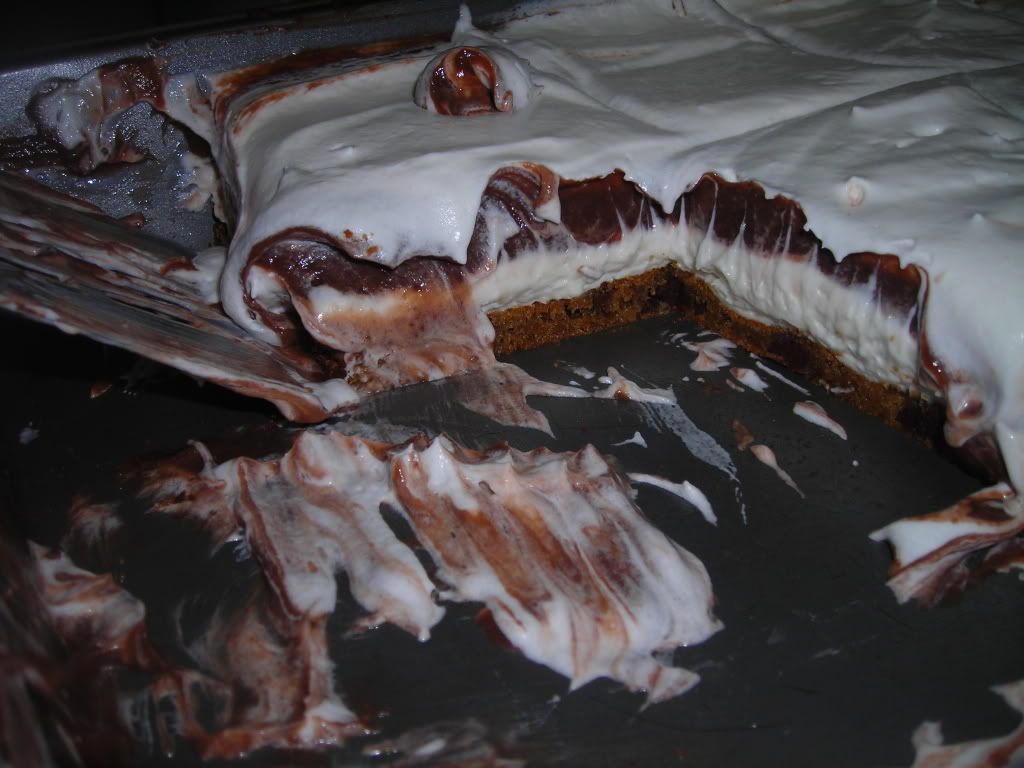 This recipe is from one of my friends in Muscatine, Iowa (woot, woot) where we spent the summer for an internship and it may have been the best thing we ate ALL summer. She generously shared some of this with us (she dropped it off while she was dropping off some Gilmore Girls DVDs...feeding my TV and chocolate addictions and forever earning a place in my heart). So when my HH (hot hubby) requested it for his birthday cake I was happy to oblige. She shared the recipe with me and I think she wouldn't mind if I shared it with you. So grab your 9 x 13 pan and let's go!
This recipe is from the magazine
Simple & Delicious
(may/june 2008) they call it chocolate chip cookie something or other, but I just call it mmm. mmm. g
ooo
d.
Here are the deets:
1 tube (16 1/2 ounces) refrigerated chocolate chip cookie dough*
1 package (8 ounces) cream cheese, softened
1 cup confectioners sugar
1 carton (12 ounces) frozen whipped topping, thawed, divided
3 cups cold milk
1 package (3.9 ounces) instant chocolate pudding mix
1 package (3.4 ounces) instant vanilla pudding mix
chopped nuts and chocolate curls, optional
Let cookie dough stand at room temperature for 5-10 minutes to soften. Press into an ungreased 13x9 pan. Bake at 350° for 14-16 minutes or until golden brown. Cool on a wire rack.
In a large mixing bowl, beat cream cheese and confectioners' sugar until smooth. Fold in 1-3/4 cups whipped topping. Spread over crust.
In a large bowl, whisk milk and pudding mixes for 2 minutes; let stand for 2 minutes or until soft-set. Spread over cream cheese layer. Top with remaining whipped topping. Sprinkle with nuts and chocolate curls if desired.
Cover and refrigerate for 8 hours or overnight until firm.**
* My friend makes her own cookie dough, but I was lazy and used the pre-made kind. Um. It was better with the homemade cookie dough. Still good, but not as good.
**I haven't gotten a lot of sleep the past few weeks what with one of my kiddos getting 3 (THREE) teeth so I missed the note about making it in advance and we had friends waiting to share it with us...So we just sorta skipped that step and it was still mmm. mmm. g
ooo
d!! So diet all week and indulge in this on the weekend!