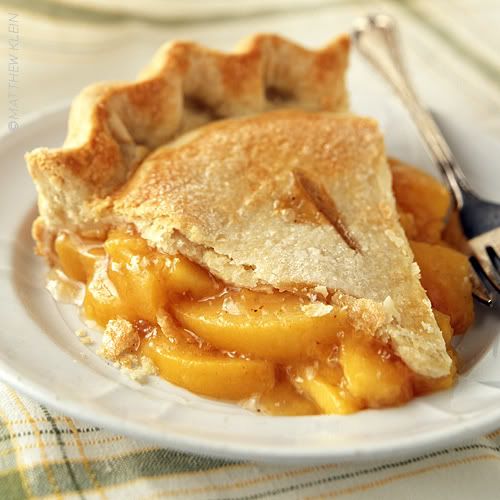 Every year the WVU farm sells peaches. This year, you had to stand in line and get there early enough to get some. I heard there was even a riot this year at the farm. Sheesh! I was fortunate enough to get a few bags to freeze and make a pie with. This is a recipe I looked up on
allrecipes.com
. It was easy as "pie!!!" SOOOO yummy. You can make a double recipe of dough and cover the pie or just leave it open. I left mine open and it was delicious! I could have eaten the whole thing myself.
Fresh Peach Pie
10 fresh peaches, pitted and sliced
1/3 cup all-purpose flour
1 cup white sugar
1/4 cup butter
1 recipe
pastry for a 9 inch single or double crust
Mix flour, sugar and butter into crumb stage.
Place one crust in the bottom of a 9 inch pie plate. Line the shell with some sliced peaches. Sprinkle some of the butter mixture on top of the peaches, then put more peaches on top of the the crumb mixture. Continue layering until both the peaches and crumbs are gone.
Top with lattice strips of pie crust.
Bake at 350 degrees F (175 degrees C) for 45 minutes, or until crust is golden. Allow pie to cool before slicing. Best when eaten fresh.